Vancouver Island Mountain Fireweed Honey tastes amazing. SOLD OUT.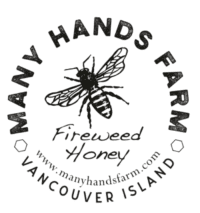 1KG Jars SOLD OUT
500 ml Jars SOLD OUT
Honey this good doesn't last long.
Watch Many Hands Farm on Shaw Tv.

In the past, we have hosted groups and classes on our Regenerative Farm.
Skills in Planting and Harvesting Amazing Foods, Permaculture, Swales, HugelKultur, Mapping, Chicken and Duck care, Animal Husbandry, Pioneer Skills, BeeKeeping, Farm Safety, Soil, Worms, Mycelium, Natural Building and so much more!